A Life-long Relationship
At Shrimati Indira Gandhi College, we wish to have a life-long relationship with our students.
Today, many of our alumnae are women leaders who are transforming the society. We are proud of our SIGCians.
SIGC's Alumnae Association aims to maintain a strong alumnae network with the objectives of staying connected and also creating opportunities for the current students. We believe this cross-generational relationship and the interactions, mentorship and knowledge-sharing that it offers will inspire them to become tomorrow's leaders.
The alumnae are also encouraged to exchange feedback for continual improvement of the college through our various meet-ups.
Regular alumnae meets
Every year alumnae meets are conducted on graduation day. Faculty members of each department interact with them and elicit information of their current roles and interests.
Special alumnae meets
'Special Alumnae Meets' are also convened once in a while where alumnae who are performing significant roles in various fields are awarded.
The recipients of the award are invited in person to attend the meet and an open invitation is published in the local dailies inviting all alumnae. A chief guest is invited to address the gathering. The recipients of the award interact with current students and share their inspiring stories.
A feast is also arranged for the participants to celebrate the re-union.
Our Girls who are Leading and Transforming the Society
Charulatha Jayaraman, Championing Fine Arts In The US
Poorvadevi, Entrepreneur & Language Trainer
Dr. Priya Sethuraman, Deputy Registrar, Anna University
How Can You Contribute as an Alumna
People who are Holding the Family Together
Alumnae Association Coordinators
Ms. N. Saratha
Asst. Professor
Dept. of Commerce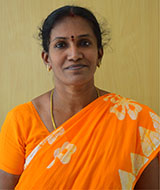 Dr. N. Hemalatha
Asst. Professor
Dept. of Social Work
Ms. A. Anitha Ezhil Mangaiyarkarasi
Asst. Professor
Dept. of Physics
Ms. Anitha
Office Staff
Ms. K. Shoba
Assistant Professor
Dept. of Commerce
Office Bearers
President
Dr. S. Regha
Dept. of Computer Science, IT & BCA
M.Phil CS., Ph.D
Joint Secretrary
Ms. K. Chithradevi
Dept. of Microbiology
M.Phil, Microbiology
Secretrary
Ms. R. Indra
Dept. of Computer Science, IT & BCA
M.Phil CS
Vice-President
Ms. M. Umashankari
Programmer
M.Phil.,
Treasurer
Dr. J. Shanthi
Dept. of Mathematics
M.Phil., Ph.D